Have you been waiting until your website is perfect to start sharing your message?
Are you waiting until you have a certain number of keyword-rich, SEO-optimized blog posts with pretty pins before you "go live"?
Are you not sharing your knowledge and expertise online because you don't have a freebie yet and your mailing list isn't set up?
You have knowledge and experience in your unique area that can help people RIGHT NOW, and it's not the time to be worried about what your logo looks like.
I heard from so many of you after my post letting you know that YES, what you do still has value – that you were inspired to log back in to the Free 5 Day Website Challenge and keep building your website…
…and that's great…
But I'm calling on you to do more than just get back to work on building your website.
I'm calling on you to get your message out there, now.
Even if your website's not done to your standards or looks nothing like the vision you have in your head.
Even if you don't have your email list set up.
Even if your Perfect Homepage Layout is less than perfect.
Even if, even if, even if.
Minimum viable website.
I don't know about you, but I need a break from the news.
Yes, I want to know what's going on, but I don't need to read ad nauseum every single story about COVID-19 until my eyes ache and I feel more 10 times more anxious than I did before I gave my notice at my day job (which was probably the most anxious I've ever felt).
I'd like some more productive, inspiring, helpful + uplifting content to consume, please!
And you may not know this about your fellow 5 Day Website Challengers like I do (because I keep tabs on everyone), but the websites and blogs and businesses you all are building are not only fascinating, but RELEVANT:
Caring for elderly parents (how do you keep them and yourselves safe?)
Living abroad as a US citizen (what are you seeing? what are some of the unique challenges you face?)
Healthy eating (how can we still eat healthy when we might not have as much access to fresh food)?
Family finances and budget (how can we prepare for an economic downturn without panicking?)
Moms, kids, family (how are you preparing to have your children unexpectedly at home for an extending spring break?
Relationships (how can we improve our relationships while we're in close quarters)?
Fitness (how can we work out at home?)
Arts, crafts + sewing (now that we're gonna have more time at home than ever, how can we use our minds and be creative).
I mean, that's just the general list. There are even more specific niches you guys are in and the list goes on and on…
You have knowledge and expertise to share, and now is the time to start creating + sharing.
It's not about "marketing" and it's not about "doing it right" and it's not about "business".
It's about using the platform you have to get your message out there.
All you need to go live is a Blog Page set to show your latest posts, and one single blog post.
You can even use WordPress's default 2020 Theme that came pre-installed with WordPress. Yeah, it's ugly, but who cares? It's not about what it looks like, it's about your WORDS and what they say.
If your homepage isn't designed yet, you can still go live by setting your blog to your homepage.
1) Go to Settings > Reading in your WordPress Dashboard and under the first option "Your homepage displays" just select "Your latest posts" and uncheck the box to discourage search engines from indexing your site.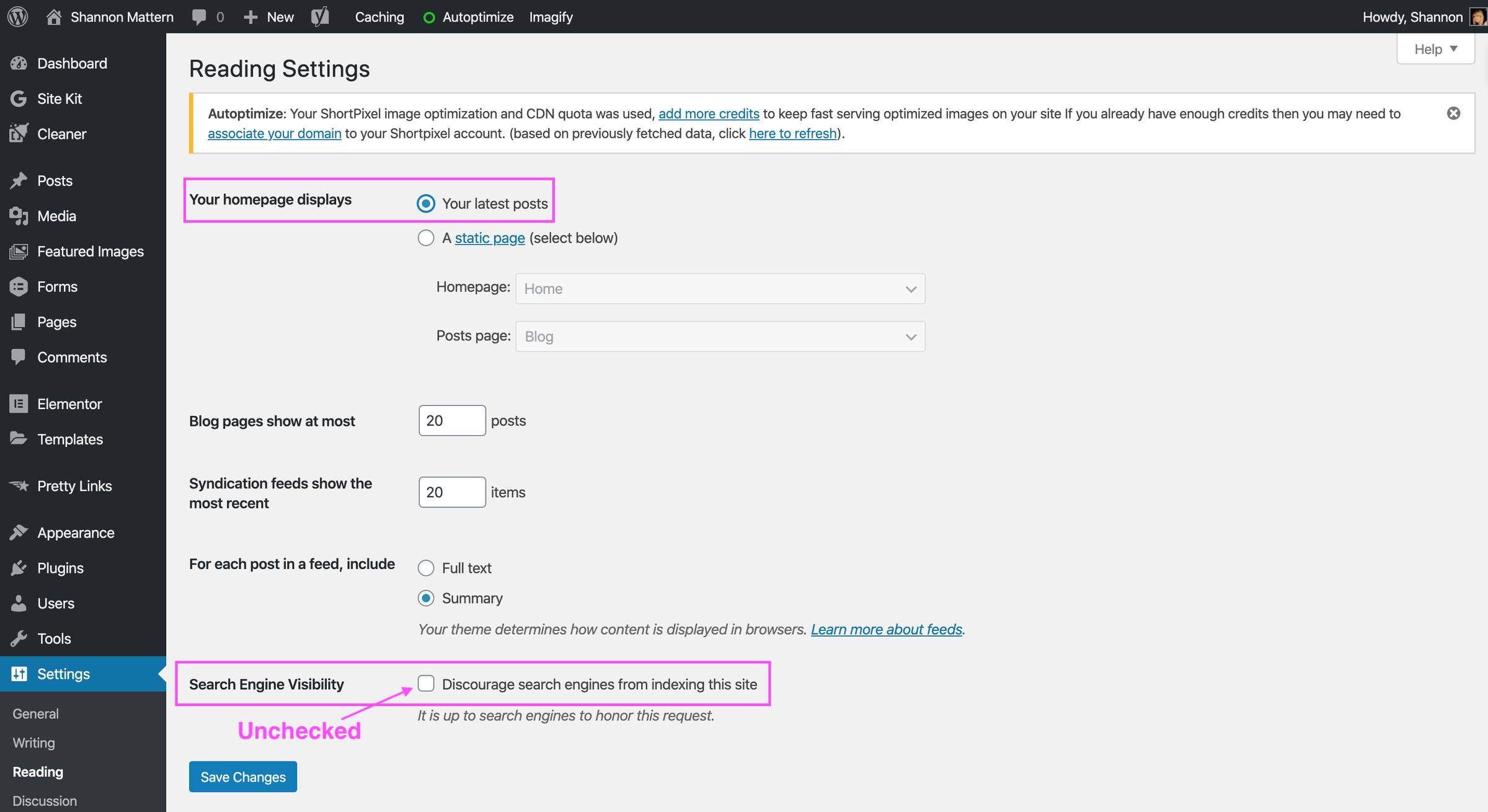 2) Go to Settings > General and uncheck the "Enable Coming Soon Page" (Bluehost users only)
You can skip submitting your site to Google for now – you can do that later once your site is "done". And they'll find you eventually anyway…
After you've published that blog post, SHARE IT.
Email it to your friends and family.
Share it on your personal facebook page.
Create a Pinterest account, a pinterest board about your topic and pin that blog post for other people to find and re-pin.
Link to it from your Instagram bio and post it on Instagram, share it on your IG stories.
Go live on Facebook or IG and talk about it.
Share it in Facebook groups that you're active in that permit sharing (like the Free 5 Day Website Challenge FB Group – I don't care what you're sharing this week, just share it.)
Now is not the time to be fussing over logos or designs or themes or business accounts vs personal accounts and having everything perfect and ready before you hit publish.
Now is the time to share what you know to help people collectively get through this, however long "this" is.
You'll have plenty of time to work on all the design + marketing stuff later.
And then use this opportunity to talk to people online, to engage, to find out where they're struggle and identify ways you can create more content that actually HELPS them.
And then go create it for them.
That's all marketing is anyway…
So go wash your hands, stop waiting for everything to be perfect, and get that website live and share your latest blog post in our Facebook Group.
PS – If you're gonna be cooped up at home for awhile and want to do something more productive than Netflix, here are all my free educational trainings that can help you learn what you need to learn to get your message out there: